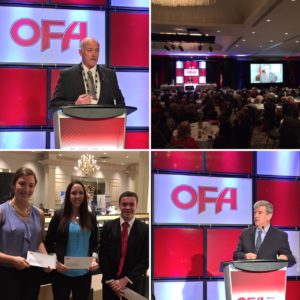 A new OFA president was elected by the delegates at the Ontario Federation of Agriculture's (OFA) 2016 Annual General Meeting. Keith Currie was elected as the new president for a one-year term. Currie is a Collingwood-area hay and sweet corn farmer and long-time board member who most recently served as vice president. In the election for OFA's two vice president positions, delegates voted in Mark Reusser, a Waterloo County turkey farmer and re-elected northern Ontario dairy farmer Peggy Brekveld.
The Annual General Meeting was held Monday, November 21 and Tuesday, November 22 at the International Plaza Hotel in Toronto. This year's theme, Precision Matters, represented the importance of precision technology and innovation to the productivity of Ontario's agricultural industry.
The annual meeting featured a full slate of policy and politic discussions, government leaders, speakers, presentations, interactive workshops and leadership elections.
OFA wrapped up its 80th anniversary celebrations with the announcement of the 80th anniversary bursary recipients, farm gate challenge winners and the winner of the OFA sponsored trip to the 2017 World Agriculture Expo.
The event provides members, guests and industry representatives the opportunity to engage in an open dialogue and discuss key issues affecting our agriculture and agri-food sector. OFA values the input of its membership and will continue to work hard to achieve the policies, practices and regulations that will enable us to grow farms and food forever.
For more information, click here for the news release.