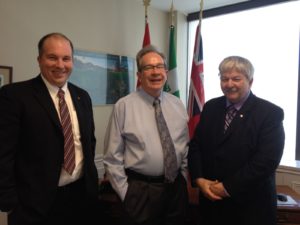 Members of the Ontario Federation of Agriculture board of directors travelled to Queen's Park yesterday for their annual spring lobby day event. Board members arranged meetings with Members of Provincial Parliament (MPPs) and the Minister of Agriculture, Food and Rural Affairs Jeff Leal to discuss key issues and priorities affecting rural Ontario and the agricultural industry.
Key issues that were touched on throughout the day included climate change, natural gas infrastructure, Hydro One and the need for an farm industrial rate as well as the use of neonicotinoids and the need for a pollinator health strategy.
The day concluded with an evening reception, which was hosted by OFA, attended by board members, various MPPs and Minister Leal. The OFA intends to host their next Queen's Park lobby day in the fall.