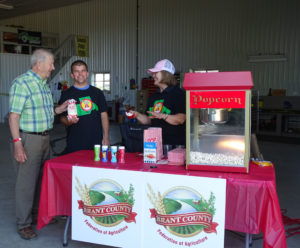 Four farms in Brant County opened their doors to the public for the first "Tour de Farm" event on June 24, 2017. The self guided farm tour allowed participants to meet with four local farm families. It was a chance for many of the 100 participants to get their first close-up glimpse of life on a working farm. The tour included a stop at a robotic dairy farm, a cash crop operation, an apple orchard and cidery and a beef farm. Local snacks were served up at each location. Local farmers helped out as volunteers to answer questions and look after various displays.
The event was hosted by the County of Brant with support from the Brant County Federation of Agriculture (BCFA).
Pictured is Ron Eddy, Mayor of Brant County, enjoying a sample of Ontario popping corn with BCFA board members Colton Oughtred and Jean Emmott.