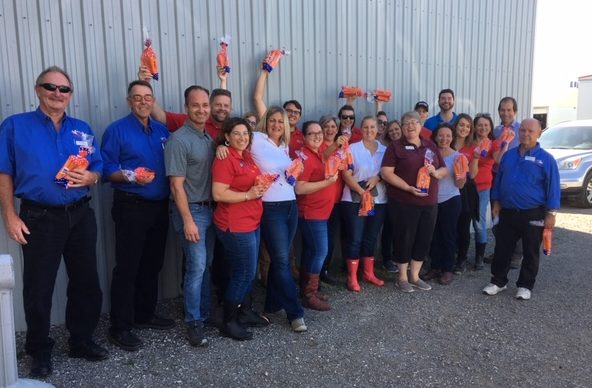 The Kent Federation of Agriculture, in collaboration with OFA and Chatham-Kent Economic Development, recently hosted Scotiabank Managers on a tour of the local agri-food sector in Chatham-Kent.
The tour provided Scotiabank management staff from Kent, Essex and Lambton counties the opportunity to learn and better understand the agriculture and food industry. It was a chance for many of them to gain knowledge, experience and insight into the local agricultural community. They discussed a few of the challenges faced by Ontario farmers, including extreme weather, crop management, farm labour and finances related to farm equipment.
The agricultural education tour showcased the diversity of the agri-food industry in Chatham-Kent as well as its economic impact on both the regional and provincial economies. Attendees were given a first-hand look at a local vegetable farm and packing facility, seed corn harvest and processing, medical cannabis facility, food processing facility and a drainage system.
Thanks to representatives from KFA, OFA and Chatham-Kent Economic Development for organizing the tour and showcasing our dynamic industry.