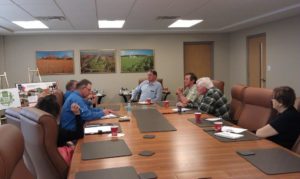 The Kent Federation of Agriculture (KFA) recently hosted MPP and NDP agriculture critic John Vanthof for a meeting with KFA directors. The KFA covered several issues and concerns with Vanthof during their meeting, including pollinator health, energy and species at-risk. In addition to the meeting, Vanthof was also given a tour of Ridgetown College.
[Pictured from left to right]
MaryAnne Udvari, KFA President Ron Faubert, Harry Lawson, MPP John Vanthof, Ken Dawson, Bill Parks and OFA Member Service Representative Gayle Bogart.