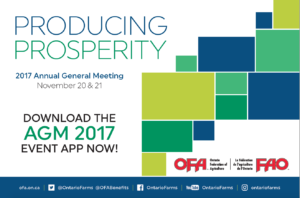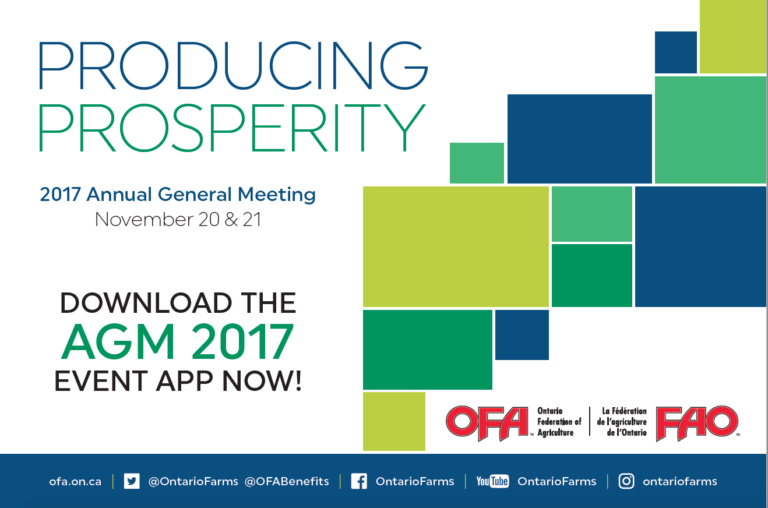 The Ontario Federation of Agriculture (OFA) is hosting its 2017 Annual General Meeting at the Delta Hotels by Marriott Toronto Airport & Conference Centre in Toronto beginning Monday, November 20 at 8:15 a.m. and closing Tuesday, November 21 at noon. Registration opens Sunday, Nov. 19 at 6:00 p.m. and continues Monday, Nov. 20 at 7:30 a.m. This year's theme, Producing Prosperity, focuses on the concept of distributing the province's economic development beyond big urban centres.
The event brings together members, industry representatives and key stakeholders to discuss key issues impacting our agricultural and food industry, Ontario's rural communities, participate in progressive workshops, hear from government leaders and vote for OFA leadership.
Agricultural Economist David Freshwater will deliver the keynote address based on his recent Foresight Paper Growth Beyond Cities: Place-Based Rural Development Policy in Ontario that was commissioned and released by the Rural Ontario Institute earlier in November.
Again this year, attendees can download the 2017 AGM event app from the app store. Using this app, attendees can access the agenda, resolutions and other documents, learn about the keynote speaker, read guest speaker bios, view workshops, explore exhibitors and sponsors and engage with fellow guests. The app also offers a fun and interactive gaming experience with a chance to win great prizes.
Join the conversation and stay connected throughout the event using the hashtag #OFAgm17.
For those who are unable to attend, you can watch online through our live webcasting feed. For agenda and event details, click here.