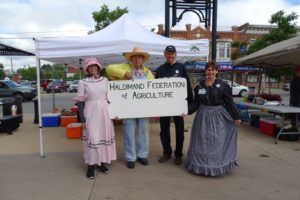 Decked out in his town crier regalia Larry Davis, OFA Zone Director for Brant, Haldimand & Norfolk officially opened the 4th annual Local Food Week event at the Hagersville Farmers' Market on Wednesday, June 7.
Over 800 elementary school students and members of the public attended the Local Food Week event in celebration of Ontario's abundance of fresh, safe and healthy local food.
The local food week committee is comprised of a group of local organizations in Haldimand County, which includes the Haldimand Federation of Agriculture. The theme of this year's event was Canada's 150th anniversary. Hagersville Farmers' Market also celebrated its 125th anniversary.