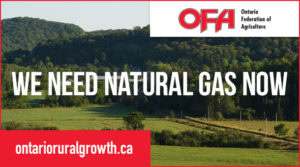 On Thursday, March 2, 2017 the provincial government announced a hydro cost relief plan for Ontario. OFA proposed more balanced distribution charges in its pre-budget submission, and welcomes the near-term relief from high electricity and distribution costs. The current hydro plan does not yet address the fundamental, long-term energy issues faced by Ontario farm businesses & rural residents. OFA's advocacy work continues for a significant investment in natural gas infrastructure to provide competitive and affordable energy for rural Ontario.
OFA's work will continue in understanding how the recently announced hydro cost relief plan impacts Ontario farmers moving forward.
For more information about the need for natural gas in rural Ontario, visit ontarioruralgrowth.ca.