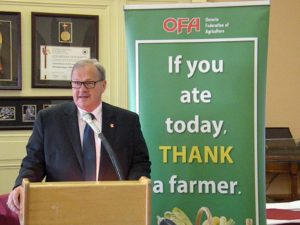 Farmer representatives and members of the Ontario Federation of Agriculture (OFA), Quebec Farmers' Association and the Canadian Federation of Agriculture (CFA) hosted their annual Hill Lobby Day on Thursday, March 23 on Parliament Hill. The Hill Lobby Day provided a great opportunity for Ontario and Canadian farmer representatives to bring key messages directly from grassroots members to our federal leaders. Hon. Lawrence MacAulay, Minister of Agriculture and Agri-Food addressed attendees and spoke about the importance and value of Canada's agriculture and agri-food sector.
The event opened the door for discussions with Members of Parliament about key priorities impacting Canada's agriculture and agri-food sector including our role in driving economic growth, investments in infrastructure for transportation, broadband and natural gas infrastructure, climate change and a national Food Policy.
OFA was proud to participate, along with our fellow agricultural organizations, to bring agriculture's voice to our federal government.