Calendar of Events
Use our interactive events calendar to find out more about upcoming agricultural events across the province.
---

2021 Virtual Annual General Meeting
22 November, 2021 @ 9:00 am

-

3:00 pm

OFA will be hosting the 2021 Annual General Meeting (AGM) in a virtual format on Monday, November 22, 2021 beginning at 9:00 a.m.
The annual meeting offers members an opportunity to participate in engaged discussions on key issues and priorities impacting Ontario's agriculture industry and rural communities.
This year's theme is Connecting with Ontarians.
Public trust is the degree to which the public believes that a profession and those involved will act in a particular way that serves and protects the public's interest. It is directly tied to feelings, emotions and values of an individual and society.
OFA has a role to play in public trust in terms of digging deep and understanding the values and expectations of our society. Our intention is to focus on how agriculture and the food products we nurture are rooted in universally shared values. We aim to communicate how the farming and food sector lines up with those values and expectations through the supply chain from field-to-fork.
Through a variety of new campaigns, events and initiatives, OFA is working with partners to better connect with Ontarians about the farming and food sector. We're pleased to bring experts and speakers to our AGM to share their thoughts and perspectives of how to bridge the gap. And we're excited to share with you how OFA will be contributing to this important priority by focusing on building connections, sharing experiences and engaging our audience through values, emotions and understanding.
Everyone has a reason for the decisions they make. Ontarians make choices every day that are based on their own values and principles, and it is our intention to connect with consumers over these shared values. Through connection we hope to create a better understanding and appreciation for Ontario's farmers and the agri- food value chain. Together, we can connect with Ontarians and showcase the best our industry has to offer.
What's your reason?
How to Register
For media, guests and industry stakeholders interested in attending the annual meeting, please contact Kelly Alves at kelly.alves@ofa.on.ca or 519-821-8883 ext. 204.
How to Livestream – Public Viewing
For guests, industry skateholders and government representatives interested in watching the virtual annual meeting, please click on the following link: https://bit.ly/ofa21agm-public
Agenda Highlights
Click here to view our meeting agenda.
Keynote speaker
Terry O'Reilly, host of the award-winning radio show 'Under The Influence'. He discusses the bigger issues of marketing and how it affects the public.
Guest speakers
Hon. Lisa Thompson, Minister of Agriculture, Food and Rural Affairs
Mary Robinson, President, Canadian Federation of Agriculture
Digital AGM Workbook
Click here to view the digital workbook.
Resolutions Report
Click here to view the 2021 resolutions.
Click here to view the 2020 resolutions report.
Financial Statements
Click here to view the audited financial statements.
Director-at-Large Candidate Profiles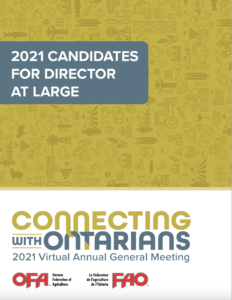 Learn more about
Social media
Follow #OFAgm21 on social media for updates and highlights.