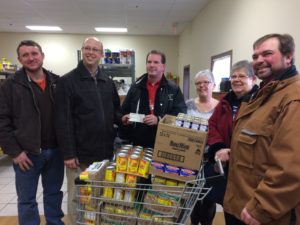 In celebration of Food Freedom Day last week, the Elgin Federation of Agriculture (EFA) made a generous donation of $500 to Aylmer's Corner Cupboard.
Food Freedom Day, which was coined and calculated by the Canadian Federation of Agriculture (CFA), was celebrated on Tuesday, February 9 and marked the date when the average Canadian had earned enough money to pay for their entire 2016 grocery bill.
It also served as an annual reminder of the abundance of healthy, safe and affordable food we enjoy having access to.