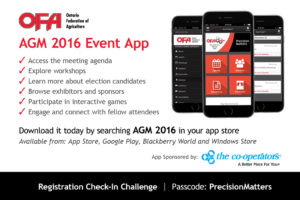 OFA AGM 2016 is the official mobile app for the Ontario Federation of Agriculture's (OFA) 2016 Annual General Meeting. This year's theme is Precision Matters.
OFA's 2016 Annual General Meeting brings together members and industry representatives to discuss important issues affecting our agricultural industry, vote for OFA leadership, participate in progressive workshops and hear from government leaders.
With this app you can access the agenda, resolutions and other documents, view event workshops, learn more election candidates, explore exhibitors and sponsors and engage with fellow attendees. The app also offers a new interactive and fun gaming experience with a chance to win prizes.
The app provides the complete AGM package at your fingertips.