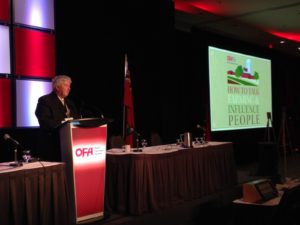 At the 2015 Ontario Federation of Agriculture (OFA) Annual General Meeting, Don McCabe was acclaimed to serve as president of OFA for another one-year term. Also acclaimed, were vice presidents Peggy Brekveld and Keith Currie.
OFA hosted its Annual General Meeting and Convention at the International Plaza Hotel in Toronto on Monday, November 23 to Tuesday, November 24. The theme, which was How to Talk Farming and Influence People, represented OFA's ongoing advocacy work bringing issues to government and influencing policy decisions on behalf of OFA's more than 37,000 farm business members.
The event featured a full slate of speakers, presentations, interactive workshop sessions and networking opportunities related to our theme of talking farming and influencing people.
Allen O'dette, President and CEO of the Ontario Chamber of Commerce gave opening remarks followed by the Ontario Minister of Agriculture, Food and Rural Affairs Jeff Leal.
Guest speakers throughout the Annual General Meeting and Convention included NDP leader Andrea Horwath, PC leader Patrick Brown, Canadian Federation of Agriculture President Ron Bonnett and keynote speaker Jeff Fitzpatrick-Stilwell, McDonald's Restaurants of Canada Limited.
OFA will mark 80 years of farm advocacy in 2016. And this year's event kicked off the beginning of our 80th anniversary celebrations with the unveiling of OFA's 80th anniversary logo.
The annual meeting offers a great opportunity for delegates, directors and industry supporters to discuss important issues affecting the agriculture and agri-food sector. We thank everyone for attending and making our event a success. We encourage all OFA members to continue talking farming and influencing people to ensure a strong, vibrant future for Ontario agriculture.