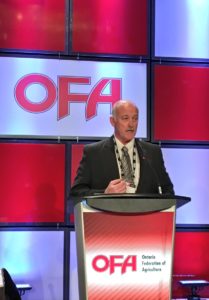 The first day of business at the 2016 Ontario Federation of Agriculture (OFA) Annual General Meeting – Precision Matters featured a full slate of speakers, presentations, interactive workshop sessions and elections, including the appointment of a new OFA President.
Delegates elected Keith Currie as the new President of OFA for a one-year term. Currie is a Collingwood-area hay and sweet corn farmer and long-time board member who most recently served as Vice President.
The annual meeting officially commenced Monday, November 21 at 8:00 a.m. at the International Plaza Hotel in Toronto. This year's theme, Precision Matters, represents the importance of precision technology to the productivity of Ontario's agricultural industry.
Joe Dales, Senior Vice President of Farms.com brought opening remarks focused on the importance of technology and innovation to the agriculture industry. Hon. Jeff Leal, Minister of Agriculture, Food and Rural Affairs provided video remarks and Hon. Kathryn McGarry, Minister of Natural Resources and Forestry discussed the importance of agriculture's voice at the table.
Crispin Colvin, a Middlesex County cash crop and beef farmer, was elected as Director at Large for a three-year term on the OFA Board of Directors.
Three recipients of the 80th anniversary bursary were announced. Anita Rastapkevicuis from Elgin County, Cassidy Smith from Stormont County and Logan Emiry from Sudbury District were each awarded $3,500 to help with their post-secondary education in an agricultural program.
The annual meeting provides members and industry representatives the opportunity to engage in an open dialogue and discuss key issues affecting our agriculture and agri-food sector.