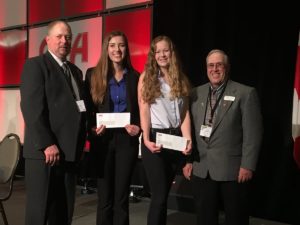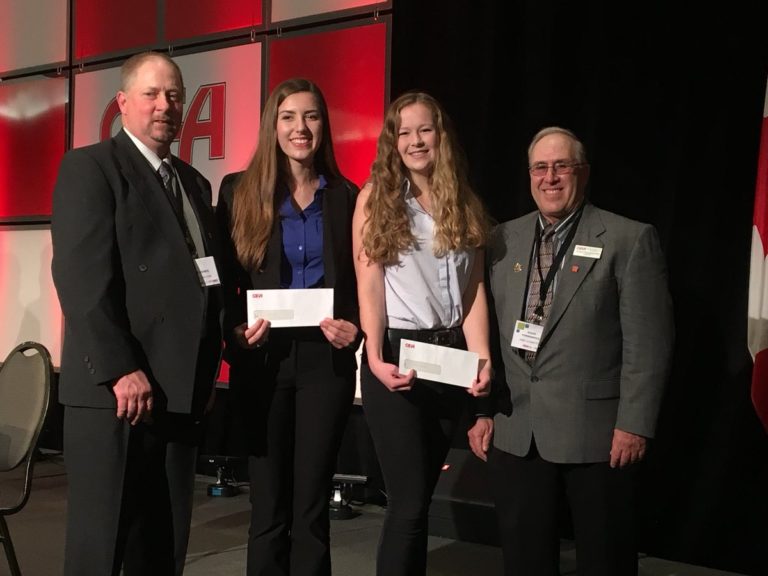 OFA's bursary program began in 2016 to celebrate the organization's 80th anniversary. The overwhelming success led to the continuation of the program.
For the second year, OFA awarded bursaries to three secondary school students pursuing education and a future career in agriculture at the organizations Annual General Meeting. OFA announced the winners of the 2017 student bursary award at OFA's 2017 annual meeting – Julie French from Peel, Emily Potter of Temiskaming and Cassie Allen from Prescott. Each bursary winner was awarded $2,000.
The bursary award winners demonstrated exceptional volunteer and industry related accomplishments, a significant interest and involvement in the agricultural industry and rural community and maintained a high academic performance.
The bursaries funds were raised at the 2016 Annual General Meeting silent auction.
Eligible applicants included students of OFA families from across the province who were entering or pursuing a post-secondary education in an agriculture-related program. The bursaries were awarded regionally, including one recipient from each region across Ontario (Northern, Eastern and South-Western).
Please refer to the Bursary Terms and Conditions for additional information.
Watch for details on the 2018 OFA bursary program.
---
80th anniversary bursary winners (2016)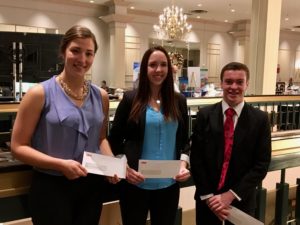 Three post-secondary students received Ontario Federation (OFA) of Agriculture's 80th anniversary bursary at the organization's 2016 Annual General Meeting. Anita Rastapkevicuis from Elgin County, Cassidy Smith from Stormont County and Logan Emiry from Sudbury District were each awarded $3,500 to help with their post-secondary education in an agricultural program.
Winners were selected for their volunteer and agricultural industry related accomplishments, interest in agriculture and rural issues, community involvement and academic performance.
A fourth year University of Guelph student, Anita Rastapkevicius is completing her Bachelor's Degree in Food, Agricultural and Resource Economics (FARE) with a minor in Agronomy. Anita was raised on a fruit, vegetable and cash crop operation in West Lorne, ON.
Cassidy Smith comes from a family farm in Berwick, ON and is in her second year of the Farm Management and Technology program at McGill University.
Logan Emiry is in his first year at University of Guelph in the Agriculture Science program and comes from a dairy farm in Massey, ON.
The bursary competition was open to students of OFA member families entering or currently pursuing a post-secondary education in an agricultural program.  Winners were awarded regionally, with one winner from northern, eastern and southwestern Ontario.