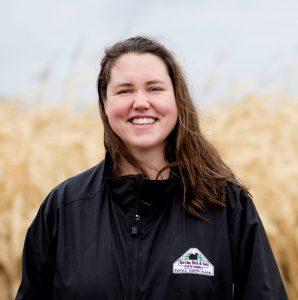 Jennifer Doelman serves on the Ontario Federation of Agriculture (OFA) Board of Directors as the Zone 8 Director representing the counties of Arnprior, Lanark, Ottawa and Renfrew. Doelman was elected into the position for a three-year term, beginning November 2020.
She is a third-generation farmer and seed producer in Douglas. Alongside her husband and parents, Doelman grows a diverse crop rotation which includes grains and oilseeds such as corn, wheat and soybeans as well as barley, canola, flax, oats, triticale, peas, forages and sunflowers. She is a graduate of the University of Guelph, an independent Ontario Certified Crop Advisor (CCA) and an alumna of the Advanced Agricultural Leadership Program (AALP).
Doelman is heavily involved in local and provincial organizations that emphasize environmental stewardship, community, and agricultural development. Currently, Doelman serves as a supportive capacity to the Ontario Soil Network, the Ontario Canola Growers, Grain Farmers of Ontario, Renfrew County 4-H Association, Renfrew County Soil & Crop Improvement Association, the Renfrew County Agricultural Economic Development Committee, the Renfrew County Bonnechere River Watershed Project, the Upper Ottawa Valley Beekeepers Association and the Algonquin College Agricultural Business Diploma Program Curriculum Advisory Committee.
Contact:
jennifer.doelman@ofa.on.ca